Annual Show is a three day event and is always
the second weekend in August.
***ALL DATES & ACTIVITIES ARE TENTATIVE DUE TO COVID-19 RESTRICTIONS. INFO WILL BE UPDATED AS IT IS FINALIZED
2020 show dates are August 7-8-9 37th Annual Show
Featured Tractor: All Tractors of the 1960s
Gates open at 9am daily.
Live demonstrations of sawmill, shingle mill, threshing, baling and rock crushing throughout each day of the show. We now also have blacksmith, hand poured concrete blocks and woodworking demonstrations.

Parade of Tractors on Saturday and Sunday.
Friday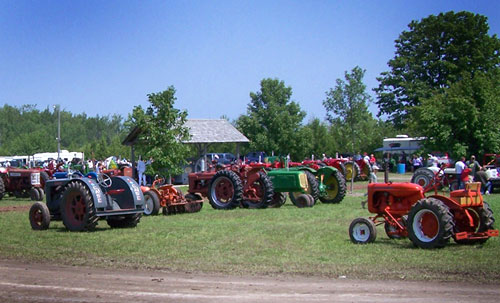 live demonstrations sawmill, threshing, shingle mill, throughout the day
Saturday
Tractor Parade 2:30pm
Live demonstrations throughout the day

Sunday
Pancake Breakfast available at clubhouse 9am until sold out
Tractor Parade 2:30pm
Live Demonstrations throughout the day
Camping (primitive) $10/day + 1 day admission
Flea Market space $15/day or $25/show Flea Market info please contact Jody at 989.379.3282 or 989.657.2194

2021 show dates will be August 13-14-15
Apple Pumpkin Fun Day TO BE ANNOUNCED
Due COVID, the club will wait until September to announce our plans for Apple Pumpkin Fun Day.